CORTEX

(3-Axis fixed-wing gyro)
Description
The fixed-wing aircraft gyro system CORTEX enables you to fly your airplane and stay safe, even under worst wind conditions. The approved bavarianDEMON 3-axes stabilization technology corrects any roughness in flight, every 0,002 seconds, and therefore results in total ease, stability and precision.
No matter if parkflyer, 3D acro model, scaler or turbine jet: it's versatility turns the CORTEX into the ultimate all-rounder in the market!
Thanks to the "Ready-to-Run" feature, the CORTEX is immediately set up and ready to go. Simply teach in the travels, functions and mixer via a quick stick input procedure, and go fly. Additional tuning options are available via software, using your PC or laptop.
Another specialty of the CORTEX fixed-wing gyro are it's 5 independent servo channels, which can be used for any function setup, like e.g. 2 ailerons, 2 elevator and one rudder, or even a setup using 4 ailerons and one elevator.
All over a real Must-Have for every fixed-wing RC model pilot.
Downloads CORTEX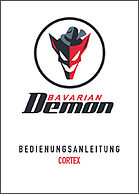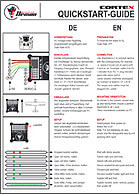 Features
Approved 3-axis stabilization technology: Made in Germany (ISO 9001)
Immediately "Ready to Run": Quick setup via radio, no computer necessary
Additional tuning options: via USB cable and PC or laptop
Enhanced compatibility: Supports up to 5 independent servo channels
Universal application: no matter if Parkflyer, 3D acro model or turbine jet
Enhanced versatility: compatible with numerous serial receiver protocols (Futaba S.BUS (input), up to 2 Spektrum/JR satellites and all PPM serial signals like with Jeti, Graupner, etc.)
Future-proof due to online updates: Free software & firmware available
Delivery
CORTEX sensor unit
Mounting pads
Cable loom to receiver
Jumper for programming
QuickStartGuide